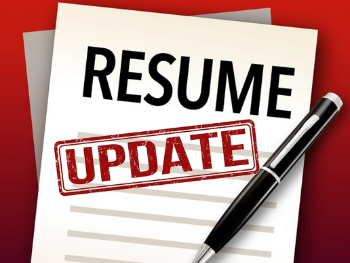 23 Aug

Time to Update That Resume!
If you're looking for a new job or even just thinking about it, one of the first things you need to do is update your resume. But what exactly are recruiters looking for and what are the mistakes you need to avoid?
Here are 6 details you should  include on your resume:
Accomplishments:
Instead of showcasing accomplishment during you high school days, your resume should have a mention of recent accomplishments and use social media for a more detailed trip down memory lane.
Relevant jobs:
Not all of us started our career doing the right jobs. A few of us must have started doing part time jobs. Always include jobs that are relevant to the role you are applying to.
References:
Mentioning "References upon request" at the bottom of your resume should be avoided. If the recruiter wants, they will always ask for references.
Resume should be readable:
Make sure the points you are trying to convey through your resume are clear, concise, and honest. Always ensure your resume is well-formatted and uniform. It should be a pleasure for the recruiter to read through your achievements.
Grammar and spelling mistakes:
Be careful of spellings and grammatical mistakes. A resume with these mistakes forms a very poor impression about the applicant.
Objective:
The purpose of 'Objective' statement in your resume is to tell the employer what you want from the role that you have applied for. It is not to be your elevator pitch!
Always keep this statement simple which reflects your expectations of the employer. Always remember, it is a brief statement explaining why you are the best for the job.
Also see: WHAT SHOULD A COLLEGE GRADUATE KEEP IN MIND WHEN LOOKING FOR A JOB?