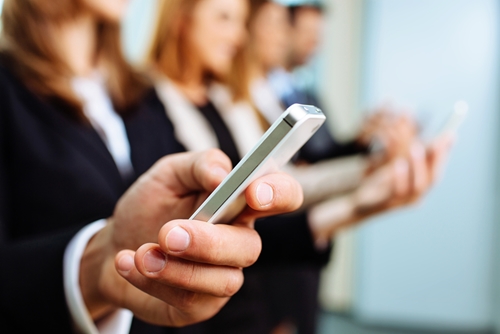 29 Jul

Top 5 Benefits of HR Solutions Going Mobile

Today, every organisation big or small seems to be using some 'mobile platform' to streamline their operations across functions and reduce their operating cost and 'do that extra bit' for their employees.

Be it any function in an organisation, everyone seems to be using an app related to their area of operation. There are numerous apps available on the Playstore or Apple store which enables employees to share updates and maintain their work-life balance.

Apart from enabling the mobile workforce to check-in from any client location, it helps the larger team to achieve the cumulative target of the team on a real-time. In the HR space, General Electronics who runs HR trends globally has already replaced annual appraisals with an app-based feedback to keep up to the real time feedbacks.

With organisations embracing these app-based solutions, it has certainly caught the attention of the larger audience with its benefits to the employees. Here are the top 5 of them:

You had a hectic week at work. You left work very late on a Friday night. Upon reaching your home, you get an automated email on your phone from your HR team that you haven't submitted your timesheet for the week and it's due today. It's much easy to open your Time & Attendance mobile application and click 'submit' than go back to the office to grab your forgotten laptop.

Workforce planning and allocation is an ever increasing requirement in the workplace.  There are times where you may be looking to update your availability, or request time off in the future.  All of this and more can now be handled through mobile HR solutions directly from your mobile device – anytime, anyplace.
Mobile workforce tracking:
With the right Time & Attendance mobile application, mobile workforce can head out to meet their clients without having to come to office merely to mark their attendance. Also, the manager can view the points the team member has checked-in/out.
Whether it is commissions or any other monetary compensation that you received from your company, the ability to view and share a copy of your payslip on-demand can be quite helpful.  Creating budgets, planning future spending, and determining if you can afford that new car all revolve around the amount of money you are earning – which you can now see right from your mobile device.
For all those who love to crunch numbers and those who don't. Imagine if you get a dashboard with the analytics all done and served to you with 100% data accuracy! It's a dream come true for a lot of HR Managers.
If your organisation is looking for an added benefit that you can provide to your employees, look no further than expanding your HR solution to a mobile platform.  At ClockIt we have incorporated the basic features to get you started on your mobile HR platform.