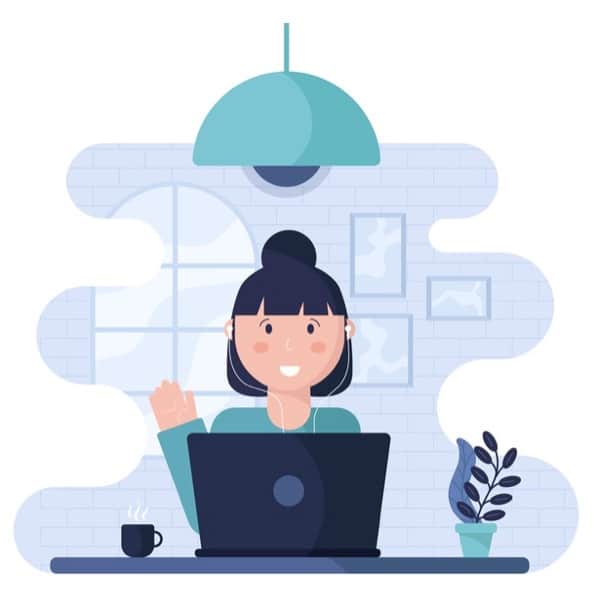 27 Oct

Work from Home Jobs – Getting Started

Jobs, where you can work from home, are becoming a popular choice for a lot of professionals with a specialized set of skills. Many individuals, including workers and employers, opt for the highest paying work from home jobs because it allows them to control their career while allowing them to work with freedom and integrity.

Employers and entrepreneurs are favoring jobs where you can work from home to increase productivity while taking the commutation expense to zero. Jobs that can be done from home are the cheapest form of employment for those who want to play an important professional goal in a multinational firm.

If you are interested in being your boss and having a bit of freedom in your professional life, jobs, where you can work from home, is a good option to choose.

Annual report of freelancing in the US by Upwork suggested that 5.67 million people in American opted for work-from-home jobs in the year 2018.

The community choosing work from home jobs is increasing steadily. A famous business platform, Statista predicts that the number of freelancers or work from home employees will exceed over 86 million in the year 2028.

With the large number of people favoring jobs where you work from home, it is imperative to be prepared for remote jobs, given the pandemic due to novel coronavirus is about to get worse by the end of 2020.

This article is your complete guide to understanding the scope of work from home jobs, the platforms to find the highest paying work from home jobs and understanding the working principles of various freelance websites to excel in your remote job.
Where to find the highest paying work from home jobs?
Remote workers on various work from home websites account for 10% of America's workforce. People who do jobs where you can work from home do not hold a permanent of consistent employment with a single firm or employer. Instead, most of the income comes from working on various freelance websites, such as Upwork, Fiver, freelance work, contract-based and temporary jobs. Work from home jobs are often considered part of gig economic society.
To start your journey in the tech industry or to build yourself as a freelance entrepreneur, you can build a portfolio for work from home jobs to get gigs and securing the highest paying work from home jobs.
Although there are many freelance websites, they have one common ground: the need to build a portfolio to secure the highest paying work from home jobs. They are essential in building long-term work relationships with temporary clients.
However, the process does not occur overnight. The will to work remote jobs has to be higher than commuting to permanent job placements. Even though there are low paying work from home jobs in the freelance marketplace, one must not bid on them if they can deliver quality work to all the clients.
Ideally, in work from home jobs, you build connections with the clients so that they keep coming back with more highest paying work from home jobs for you. As a remote worker, you must be open to the variability and reliability factors at work.
Many remote workers have difficulties finding the highest paying work from home jobs. If you are one of them, here some renowned websites you can dig into:
Let's begin with Upwork
Upwork
Upwork was created by the worth-remembering collaboration of oDesk and Elance- two of the most popular freelancing leaders. Upwork is one of the world's largest freelance marketplace where you can find the highest paying work from home jobs in the freelance industry.
Remote workers have to create their Upwork freelance account alongside an impressive profile and portfolio outlining their interpersonal skills, specializations, experiences in working from home, etc. Upwork is a platform where millions of clients post job listings from more than thousands of categories and find the best candidate. However, they must give details of the project so that the freelancers can understand the remote job better.
After that, the remote workers submit their bids and proposals for the project they are interested in doing. The client goes through all the bidders' profiles and portfolios to pick the best candidate that fits his requirements and needs.
How does Upwork work?
Creating a freelance profile on Upwork is like creating your work Twitter account. First of all, Upwork will ask you to enter the information that will help you cash out and make transactions. You would enter your address, national ID number, email account, contact info, etc.
After that, you will be asked to choose a payment method. While most of the people in America use PayPal, others use the debit card as you can withdraw money in any currency if you have a master card.
Upon providing the initial information, this is how your Upwork account page will look like:
You can then, navigate through the control panel to adjust the settings and find the work. However, you also have to introduce yourself to potential clients by creating a compelling profile. It will include your hourly rate, credentials, specializations and work experiences with other clients. By bidding for the highest paying work from home jobs, you'd be able to build a strong profile after a while.
On the left side of the control panel, you can edit the services that you provide to the Upwork clients. Make sure to only add services that you have the expertise in.
On the right side of the control panel, you can see your profile's visibility as well as the active work hours per week.
The middle part of the panel is the most important because this where all the available jobs, relevant to your niche appear.
How to make money on Upwork?
Keep improving your knowledge and searching for suitable jobs. Whenever you find one, bid on it using the least charges to get started as a freelancer
Invest your time in building your profile. You can take various skills tests by Upwork to cover all the categories that offer the highest paying work from home jobs
Work to improve your set of skills and show your customers' experiences publicly on your profile
Be open to career shifts as you learn a new set of skills. Do not forget to add additional services that you can provide to your Upwork clients
Fiverr
Fiverr is yet another freelance website offering thousands of work-from-home jobs. Often, people search, 'jobs where I can work from home'. The answer that fits this question query is 'Fiverr'. Fiverr is the best place if you want to make easy money by creating an instant freelance profile.
Unlike Upwork, remote workers can also post a job listing. But, the main difference between a client and seller's job description is that he will post, 'Need someone to do a 300-rewrite job', while the seller's post will be, 'will write 300 words daily'.
How does Fiverr work?
There's a special feature on Fiverr known as a gig. While signing up on Fiverr is free, only registered sellers and buyers can stay on Fiverr and engage in work activities. Ideally, your account would be of a buyer but with these instructions, you would be able to convert it into a seller's account.
Almost anyone can find the categories on Fiverr easily. All you have to do is search for the job postings, know the skills that you specialize in, and pitch into work once you have made the decision.
On Fiverr, you cannot make room for misunderstandings or improvements. Make sure that your seller account is complete and the profile describes the services you offer to clients on Fiverr.
However, you would receive 80% of the total value of the project as 20% will be considered Upwork's commission.
How to make money on Upwork?
Only provide your services to the people who value your work
Write a work proposal
Be clear of the client's need and requirements
Identify the right clients with the highest paying work from home jobs
Top 30 highest paying work from home jobs
Freelance websites like Upwork and Fiverr allow us to set our rates for remote work, have flexible working hours and freedom over our professional life. From being a virtual assistant to a graphic designer, one can work as anyone in the freelance industry.
Here are the 30 highest paying work from home jobs that you should try if you have got skills and knowledge:
Article writing
Technical writing
Blog writing
SEO content writing
Ghostwriting
Copywriting
Web designer
Graphic designer
Editor
Photographer
Audio and video producer
Voice over artist
Artist
Social media manager
Public relations manager
Business consulting
Customer and sales support
Virtual assistant
Tax professional
Data entry expert
Language translator
Medical transcriptionist
Project manager
Mobile app developer
Game developer
Statistical analyst
Date engineer
B2B marketing expert
Google AdWords expert
Product designer
How to identify the services that you can offer?
Many organizations produce non-profitable services and products for a variety of reasons. However, driving the right and profitable decisions is all about strategic planning. Even if the planning is strategic and not based on facts or a handbook but brings profit to the company, it is workable. So, you must learn to assess your skills to identify the services that you can offer to your potential clients.
Before reviewing your own set of skills, look at last year's performance. It will provide you with enough history to analyze and identify a few services which you can offer but do not include them due to various reasons.
Pay attention to how your service column interacts with your remote work portfolio. Here are some ways to identify all the services that you can offer to the clients:
Create a column for every service/product you provide to the clients
While this is not easy, it can be a great start to add to your provided services/products. If you provide multiple services or products, you might want to create a column. Do not start with the processes. Instead, start with the end-products, that is the service or product you offer.
Create another column for sales and list down all the expenses
List down all the costing including gross profit, overhead costs, selling cost, marketing, cost, commissions, advertising, social media management, royalties, etc.
Subtract the expenses from sales profit to determine the gross profit on your services and products
After this step, you might be a little shocked to find out that any one or more of your services or products have a smaller gross profit than you had imagined.
Identify which products or services are winners and losers
The winner products' gross profits should be staying steady or increasing over time. Refer to these steps to find out the products/services that you can offer to your clients.
 How to get started?
Even the jobs that can be done from home require a little effort to get started. Here are the steps to find the highest-paying Amazon work from home jobs:
Choose a niche
Make a mind about the services/products you are going to offer
Know what an ideal client will look like
Create a high-quality portfolio for one or more freelance websites
Learn a new set of skills to expand your horizon of services/products
Build your credibility (through reviews and feedback)
Determine the right pricing for your services/products
Use your networks for introductions
Learn the science of pitching your sales for better sales
Curate guest posts on publications relevant to the product or service you offer
The first job
Starting your first ever work-from-home job? Congratulations, the opportunity is amazing and at times, feels like a dream come true. Many people are looking forward to ditching the idea of commuting to work and sticking to one or more work from home jobs.
However, if you are not prepared for your first ever work from home job, there are a lot of tips that you should cling onto. They are:
Master your firm's tools and software applications
Admit the fact that you will be sitting a lot
Establish a fixed schedule for yourself
Create a friendly connection with your remote colleagues
Set work-life boundaries
Learn about the firm's communication preferences
Have a back-up plan in case of a power cut or any technical difficulty
How to build a long-term additional income?
When working remotely, you lose track of your efficiency. When you have a job where you work from home, it gets difficult to pay attention to human elements such as customer satisfaction and quantity of work. But, if you are too focused on your work strategies and number, you would be able to build a long-term additional income for yourself.
When it comes to customer satisfaction, quality of work is the biggest factor that affects it. You can overproduce and still not meet the customer's requirements. In the end, you would end up losing them.
Once you have set up your remote workplace, identify key objectives to increase customer satisfaction such as accumulating data, task completion rate, employee utilization, etc. The quality of your work should be measured per task. This way, you can get a clear picture of where you stand in providing the services as close to the deliverables and acceptance criteria.
What next? Start an agency, go solo or diversify
There are countless ways to find work from home jobs. You can work for an agency, diversify your options- learn about the opportunities around you, or start your remote work agency. In the end, it all depends upon your preferences and views about the freedom to work at your home with flexibility.
Make sure you check out our in-depth guide on how to set up a comfortable work area in your house.