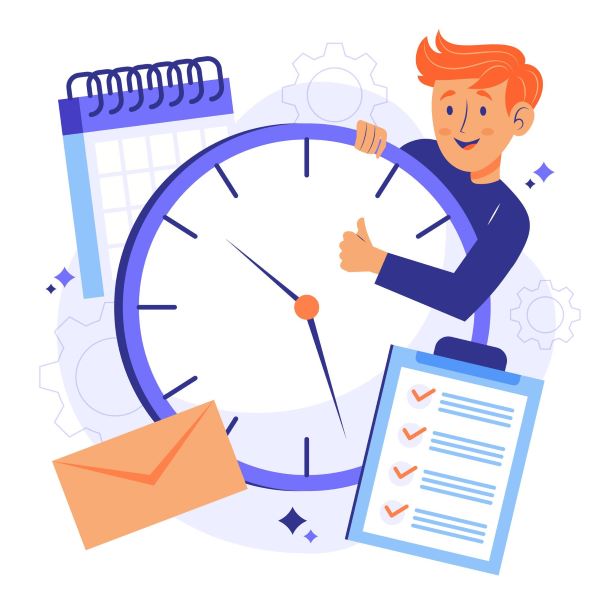 26 Sep

The Simple Time Tracking That Works Wonder.

Time tracking is a crucial activity for almost any employee and Clockit's Simple Time Tracking helps you manage your time, understand where you spend most of it, and optimize your workflow.

In other words, you can find time leaks and optimize them further by keeping track of all the time spent on different activities

. With that

being said

, tracking the time spent on various tasks isn't always an easy thing to do.

Sometimes, even the simplest tasks can feel like a nightmare – especially if you're using the wrong tools to get the job done

.

Most existing solutions are either too complex or not enough, which is why there aren't many great options

. , there is still one tool that will help you keep track of every second of your working day.
Why is Time Tracking Important?
Before we dive into the details, let's see why tracking your time is so crucial in the first place. Generally speaking, time tracking has three primary uses. First, it will help you improve your productivity. How?
By keeping a clear record of your time spent on different tasks, you can adjust your workflow and focus on the most important things first
. Second, it will help you identify time leaks. What are time leaks? They are parts of your workflow that take too much time and don't contribute much to the final result.
For instance, you may spend too much time on emails. Or you may spend too much time on meetings.
Time tracking is crucial for finding out where you lose time and optimizing your workflow further
. Finally, Simple time tracking will help you bill your clients more.
For example, if you work as a freelancer, you can track the time spent on different tasks and then bill your clients based on the results
.
What's wrong with most time tracking tools?
As we've explored, simple time tracking is an essential activity for employees and freelancers. But, not all tools help you track time.
Because most time tracking tools have
been designed
for project managers and not employees, they are often too complex for day-to-day use
. So, you usually have to spend more time looking for the right option than recording your time.
Furthermore, most of these tools don't integrate with other apps, so you must enter all the data– a colossal waste of time
.
The simple time tracking tool we've reviewed today:
ClockIt – can help you cut all the problems we've explored above
.
The main advantage of this app is that it has
been designed
for employees – not project managers, which makes it much easier to use and understand
. This app has an intuitive user interface that makes tracking time easy. You can track time, record activities, and generate reports with just a few taps – no matter what device you use (even your smartphone!).
Besides making the tracking process effortless, ClockIt integrates with many other apps, including the most popular project management tools
. In other words, you can connect your ClockIt account with other apps and see your time there. This is a huge advantage, as you can track time in one place and see it in another.
Track Activities and Tasks
Since you're familiar with the basics of simple time tracking, it's time to learn to use ClockIt, the best time tracking app
. Let's start with tracking activities. What are the activities? They are the tasks that you've added to your daily schedule. If you have a to-do list, you can add every job to it to stay focused on the right things. The best way to track activities is to use the "Add a new activity" button. You can also use the "Add activity to" button to add an action to an existing event.
Once you've selected the activity, you can add details to it, like the name of the movement, the project, the client, the duration, and the cost
. You can also assign this activity to a team member if appropriate.
Record Timing for Each Activity and Task
But what exactly do you track? Well, you can follow every moment of your day, of course, but that would get tiresome.
Instead of tracking everything, selecting the most critical activities and recording their timing is better
. You can choose an action from the drop-down menu in the top left corner and tap on the clock icon to start timing. When you're done, tap the icon again. You can choose to stop the timer or keep it going for each activity. In the latter case, the app will add the total time spent on the movement to the current time. This is especially useful when you're doing recurring tasks like responding to emails.
We've explored the benefits of time tracking, what is wrong with most time tracking tools, and how does ClockIt help
.
We've also learned to track activities and tasks and record the timing for each activity and commission
. This is the best time-tracking app you can find and is free to use for 14 days without Credit Card Signup! It's the simplest and easiest way to keep track of your time. What are you waiting for?