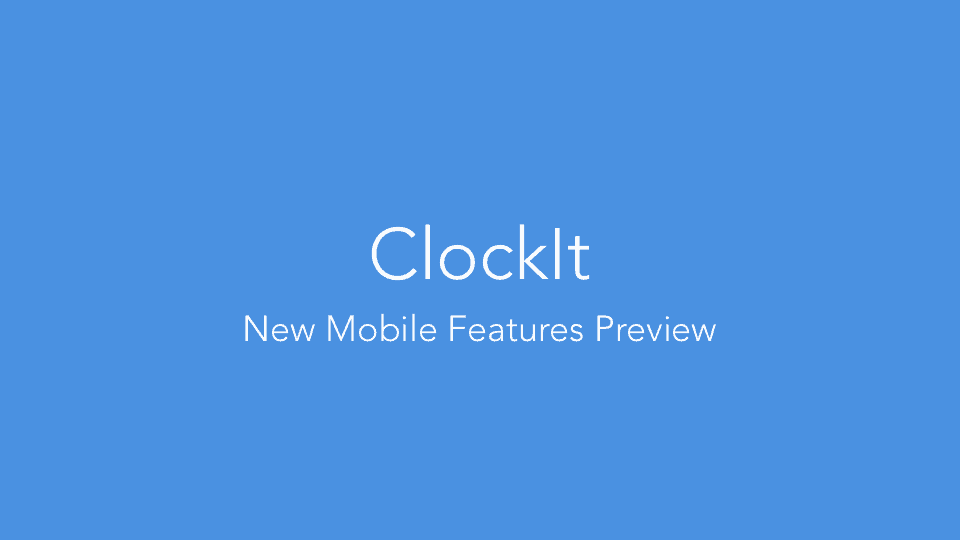 14 Feb

ClockIt New Mobile App for iOS and Android
Introduction
Hi, my name is Basil and am the founder with ClockIt. With this video, I wanted to quickly cover the new features that are being released in the upcoming app update for both Android and iOS. This will help you train your users and know what to expect once the app goes live. So let jump right in.
Completely new design.
The new app is completely redesigned. We have gone with a diary view approach that will tell your all your activities on any given day. This design is also scalable and will give us the opportunity to add more features with time within the same design. Our card based approach will let you easily see your punches, check-ins, checkouts, photos and upcoming routes.
Capture photos at the time of punching.
This has to be the most requested feature we have to date. ClockIt will now click photos at the time of PUNCH IN and PUNCH OUT. Of course, this is optional and you can set your punch settings from the admin portal. You can see these photos along with the geolocation at in the user profile. This should discourage buddy punching for users using the mobile app.
Geofencing for punches.
You can now geo fence punches. You now have better control from where your users try to punch IN and OUT. With this feature, you can make sure your users only punch from your office and not from home. For each geofence, you also have the option to set the geofence radius. Can you have multiple locations? Yes, of course, you can.
Geofencing for check-ins.
We thought we might also add geo-fencing to check-ins, because why not? Imagine a user has to routinely visit several locations once he/she has started work? This feature will ensure that they check in into only those locations specified by you. Again you can have multiple locations for check-ins.
Checkout of checked in locations.
You can now know exactly how much time a user spends at a location once they are checked in. Simply check out after a check-in and ClockIt will calculate the total time spent in the location. We also have a feature that will allow you to block future check-ins if the previous location has not been checked out from.
Disclaimers
It never hurts to have disclaimers with terms and conditions while using the mobile app. Set terms and conditions that the user much agree to capture a PUNCH IN out OUT. You can set your own terms from the punch settings on your admin account. These terms will show up every time a user has to PUNCH and will be saved only if they agree to the terms and conditions.
What're features being­­­­­ Dropped.
Earlier ClockIt used to trace the path that the user would take while they were punched IN. This meant that the app was using a whole lot of battery for GPS and was constantly submitting this data to the ClockIt servers. Both Apple and Google have been strongly discoursing this kind of user experience and we thought it was best to remove this feature after a lot of feedback from the ClockIt community.
Conclusion
So there you go. 6 great features to help you with your time and attendance needs and a great step forward to get your payroll done in 5 minutes. Please do keep the feedback coming. This is what helps us to finalize most of these features.