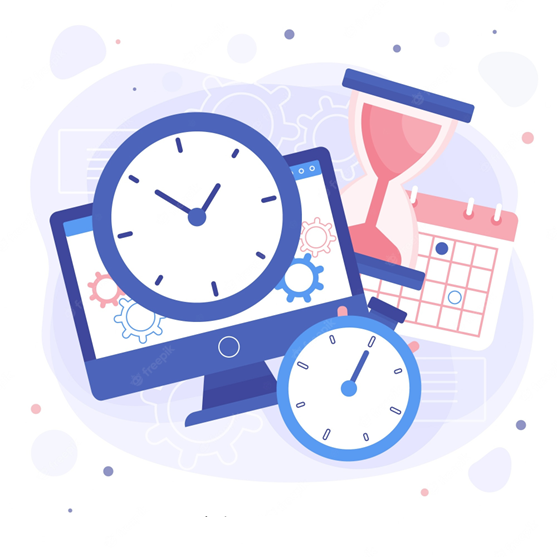 28 Mar

Clock in clock out system [Time Clock]

A clock in clock out system is a time clock app or software that allows employees to with time tracking and also mark time and attendance

. These systems help calculate work, break, and overtime hours. These systems help businesses be compliant with the labor laws of your country. Such systems also lep with reducing labor costs.

these systems were a hardware time clock that employees would insert their time cards into, and the hardware would punch time—several implementations of a time clock app, also known as a clock-in clock-out system

.
WHAT KIND OF CLOCK-IN CLOCK-OUT TIME CLOCK APPS ARE AVAILABLE?
In the early days, a time clock or a clock-in clock-out system was a physical hardware clock that an employee would insert their work hours card, and the system would punch time
. Today these systems have gone digital. Several types of time clocks allow employees to beat their time. Here are a few.
Web-based: Here, an employee would log in to a website and clock in and clock out.

Mobile

: Time card apps have become popular recently because they include GPS location and photo capture features

. These features help to avoid busy punching and give the business better control.

Slack

& Microsoft Teams: This is a newcomer.

You can integrate Slack or Microsoft Teams with ClockIt time clocks and allow your employees to punch in and out within the chat messengers

.

This means that your time clock app runs within the chat window, and employees do not need to use a separate time clock app

.

Kiosk

: Kiosks are generally apps that run on iOS and Android, from which users can clock in and out.

These time clock apps are ideal for small offices that must many employees to punch into a single time clock

.

Biometric

: This is a hardware version of the time clocks.

These devices have an extra clock in and clock out features like a biometric fingerprint, RFID, and facial recognition

. The machines are tamper-proof and can avoid buddy punching. They also help access control and can

be hooked

to your magnetic locks or door bolts.
THINGS TO CONSIDER IN A CLOCK IN CLOCK OUT TIME CLOCK SYSTEM
Before implementing any system, you might want to consider your needs. Each business is different, and each will have specific requirements. In all the points mentioned above, each method has PROS and CONS.
Using a tool like ClockIt will ensure perfect cross-sync of data between each technique
. For example, you can clock in from the mobile and then clock out using the web. A good starting place would be to have these questions answered.
Is buddy punching a massive problem in your company?

Does my team need access to mobile since they are on the field all day? If so, do I need photo capture and geofencing?

Would a simple clock-in clock-out kiosk solve my time clock problems?

What is it that I am looking to solve with a time clock?

Does Slack or Microsoft Teams work great for my distributed team, and would I only want to track time?
Implementing a tool like ClockIt time clock software has all the features you could need for your business
. But you will need to be careful in picking out the parts you need and how you want your team to use them.
WHAT FEATURES TO LOOK OUT FOR IN A CLOCK IN CLOCK OUT SYSTEM?
Some of the core features to look out for in any time clock system must be.
Time clock apps on iOS and Android.

Web access with permissions

Solid reporting engine

Customizable work timing, including night shifts

Support and documentation

Leave accruals with holiday management

Timesheet calculator that supports hours worked, paid time, break hours, and overtime calculations.

Geofencing, GPS location, and GPS tracking.

Task tracking based on projects.

Support for many locations and job sites.
Clock-in-clock systems must have an easy way to view accurate and real-time timesheets.
By making the timesheet accessible to the admins and the employees, you can ensure complete transparency in your business and avoid expensive conflicts
.
Employees also have options to request timesheet changes that the reporting manager can approve
. This workflow makes it easy for time corrections that each user handles.
This ensures that the timekeeping is a collective effort and not dependent only on the company's admins and managers alone
.
ClockIt has a
time card calculator
baked right into its core.
With so many advanced features and customization options, you will find our time clock solution to suit your needs
.
With thousands of businesses using ClockIt daily, we are confident that our time clock would be an excellent fit for your business
. You can drop time theft and avoid buddy punch with such systems.
Having an employee self-service portal will ensure that data is
readily
available to all employees in your company
.
This will ensure that everyone can access their timesheets and request corrections before the pay period
.
This means no last-minute rush and no confusion before payroll, and easy access to the employee time clock software at any time
.
Employee self-service
is made
possible with our mobile time clock apps available for iOS and Android
. Easy access to our online time clock allows businesses to track hours
accurately
. All you need is
just
an internet connection.
ClockIt has one of the most powerful dynamic reporting features.
With support for over 25 filters and segmentation, you can create more than 10,000 different report formats from a single view
. Save time running reports online with
just
a few clicks.
You can download any of these reports in CSV and open them in your favorite spreadsh68eet software
. You can also
easily
use this file for payroll processing. You can generate custom reports and get detailed employee hours with
just
a few clicks.
Any clock in clock system you put in place should offer good support for their attendance software
.
Support can
be provided
through phone calls, chat, help docs, community, and video tutorials
.
Online tools that
are updated
often will always release timely updates and ensure that you have all the time clock features to get you started from day one as per the industry standards
.
ClockIt time clock software
is billed
for teams and not per user.
These features make ClockIt the best time clock software compared to other time-tracking software
. you shouldn't worry about pricing when adding or removing a team member. Pick a team size, and you are good to go with a fixed monthly or annual bill. ClockIt pricing starts as low as 29$/month for up to 10 users.
Learn more about our pricing.
Tips on Implementing a Successful Clock In, Clock Out System in Your Business.
If you've been in business for any length of time, you know that ensuring your employees are working
productively
and
efficiently
can be challenging
.
While some companies have instituted a clock-in, clock-out system to great success, others have struggled to
implement
it and keep it running
smoothly
.
If you're thinking about implementing this system in your business or are currently trying to get the kinks out of yours, keep reading for some helpful tips
.
Implementing a clock-in, the clock-out system
successfully
will not only boost employee productivity but also increase security measures against theft and accidents on the job site
.
Read on to learn more about implementing a successful clock-in system in your business
.
Decide Which Employees Will
Be Required
to Use the System
The first step to implementing a clock-in, the clock-out system is figuring out which employees will
be required
to use it
.
For example, if you run a childcare center, it would make sense to
implement
this system only for the teachers
.
But, if you're running an auto repair shop, this system would benefit all employees, including those working on the tools in the back of the shop
. You may also want to consider whether this system applies to part-time employees. If you have a few employees who only work part-time, a clock-in/out method may be unnecessary.
Even if you decide to
implement
the system company-wide, you may want to give managers and supervisors the option to switch it off for a few employees who don't like using it
.
Set Up a
User-Friendly
Timekeeping System
The next step in implementing a clock-in, clock-out system is setting up the actual timekeeping system
. There are a few different ways you can do this. One option is a paper and pen system.
In this scenario, an employee writes the starting and ending times on an old-fashioned paper time card
. Another option is a paper punch system where employees
manually
punch a time card.
Omit, you may decide to go with a digital timekeeping system. A digital system can
be accessed
through a computer or a mobile device. It's best to set up the system so that employees can punch in and out without going to a supervisor or manager.
Train Employees on How to Use the System
Before implementing a clock-in, clock-out system, all employers should do is train employees on how to use it
.
A training session can be short and straightforward but you must go over the ins and outs of the system and answer any questions your employees have about it
.
If you have employees who are not comfortable with technology, a paper timekeeping system may be a better fit
.
Additionally, you may want to offer paper time cards as an option for employees who struggle with punching in and out using a digital system
.
Decide on Penalties for Mishandling of the System
Another essential thing to consider when implementing a clock-in-the-clock-out system is deciding on penalties for mishandling the system
. For example, what happens if an employee forgets to clock out? Or if an employee clocks out at the wrong time or after the wrong time? What if an employee fails to clock in when they start working? For each of these scenarios, you'll want to decide on a suitable penalty, if any. If an employee forgets to clock out, you could must them to punch in and out again.
Omit, if an employee clocks out at the wrong time, you may want to let it slide. Punishments should be relevant, fair, and consistent. They should also
be applied
, regardless of the employee.